Thanks for getting more information about our program! Claim your free eBook as a special gift ☟
FOOD :: You'll learn: How to overcome the urge to overeat when upset, bored or depressed · How to gage true hunger and stop eating past the point of being full · How to overcome binge eating, emotional eating and compulsive eating behaviors · How to make healthy meals taste better so you will not feel deprived of sweets and fast foods · How to pray over food so you will be reminded of your commitment to living a healthier life and strengthen your connection with God at meal time.

FITNESS :: Our workout plan encourages clients to simply walk from 30-60 minutes 3-5 days a week and do a series of strength building exercises like modified sit-ups, modified push-ups and leg-toning squats. We also encourage clients to stretch for 10 minutes a day, and we provide clients with a stretching diagram to put on their wall to make stretching easy to do! Victory Steps will help you to stay on track with your fitness plan and give effective tips and suggestions.
FAITH :: We encourage you to set aside 10-20 minutes in the morning to go to the Lord in prayer and study the bible before the day begins. This powerful habit will renew your mind and refresh your faith in a new way. We send you a weekly spiritual growth journal to help them overcome the self-sabotaging thoughts and attitudes that accelerate doubt, fear and hopelessness and stifle self-confidence and faith. Victory Steps journal exercises help you to express your true feelings and help you see life's tough circumstances from a more optimistic point of view.
Victory Steps Motivational 3 CD Set
Dear Sister in Christ, you can get our powerful faith-based audio coaching sessions and printable journal exercises that focus on putting a personal plan in place for nutrition, fitness, spiritual growth and personal development. ​​You'll receive grocery shopping guides, healthy recipes, food and exercise journals, spiritual growth journals and workout plans for total weight loss success. Results start when you do.

*Your package will arrive in 3-5 business days by
First Class Mail (SHIPPING IS FREE)
$25.00 » ORDER CD's NOW

1 Corinthians 15:57

but thanks be to God, who gives us the victory through our Lord Jesus Christ.
3 CORNERSTONES OF THE VICTORY STEPS PROGRAM:
More Victory Steps for Women True Testimonials
Testimonial: I struggled with being overweight for years and I have tried it all to get the weight off. I said to myself, God this cannot be a hopeless situation and it has to be simpler way of getting this weight off. Well soon after that inward conversation, I ran into Victory Steps on the web. Victory Steps was running a special so I said to myself and
God that this my last ditch effort before I select weight loss surgery.
It was a wonderful decision, I have learned so much from Bonnie. I have learned that I don't have to kill myself at the gym but I can do exercises that I am capable of doing. I learned how to prepare a food list from good wholesome foods. I also started to accept and love me flaws and all. This program has been the easiest program that I have been on and it is so doable. I have not been perfect but I have accomplished so much. Thank you Bonnie for being an encourager and Kudos to Victory Steps!! ~Cidquita
Testimonial: I lost 32 pounds* in my first two months working with Bonnie. She is an excellent weight loss coach and motivator. I was able to get off of my high blood pressure medication because of this program, my doctor was shocked by how well I've been doing. I told him that I can do all things through Christ who strengthens me. Victory Steps gave me the faith to believe that I can really reach my goal and keep the weight off once I do. I highly reccommend this program not only for weight loss but for spiritual empowerment! The Victory Steps Program has changed my life! ~ Pastor Lenora Peterson
Testimonial: For as long as I can remember, I have struggled with my weight. There have been moments of victory, but those moments were always so fleeting. Soon I would be back to my old ways. My parents taught me about the Lord from the time I was a child. But for all of my adult life, there has been this bondage to food and appearance.
My sister found Bonnie and Victory Steps online. We both felt that the Lord was leading me to do this as well. After delaying
for a number of weeks (that old fear gets me every time) I finally contacted Bonnie and began doing Victory Steps. I continued on my journey through the fall of 2011. I continued exercising, used the Victory Steps lessons, and just continued walking through life. I had good days and bad days. The journey was definitely not perfect. Sometimes it felt like I was falling more than I was walking. The difference was that when I failed, I got back up with the Lord's strength. ~Marilyn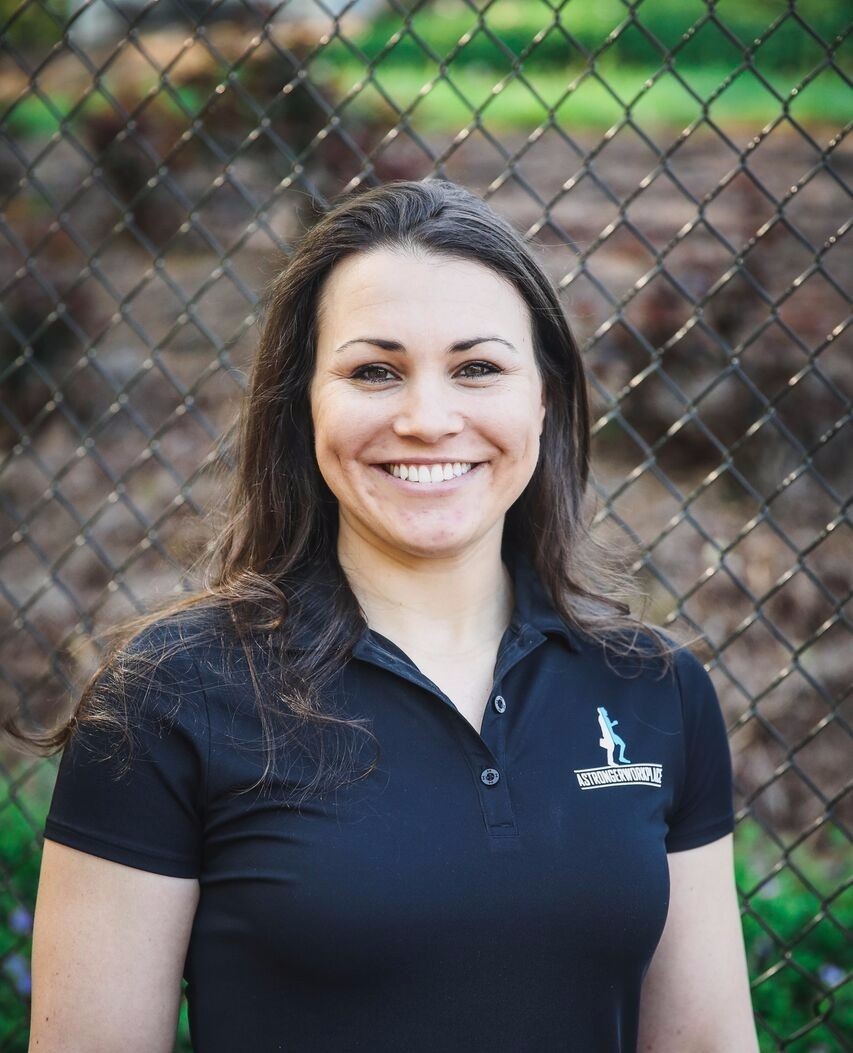 Megan Morse, Your Christian Fitness Trainer and Former US Olympian



Victory Steps Christian Weight Loss &
Spiritual Coaching Program
Remote Personal Training and Monthly Teleconference Prayer
with Our Partner: Megan Morse, Fitness Trainer & US Olympian
About Megan Morse, M.Ed., C-EP (Your Victory Steps Coach)
I am passionate about health and serving others in the name of Jesus Christ. I gained the necessary skills and experience through my education (Bachelors & Masters Degrees in Health Promotion from Auburn University), my athletic history (Collegiate Gymnastics and Track & Field, and Olympic Bobsled for Team USA), and my personal walk with the Lord to understand the human body and use that to help others become the healthiest and strongest versions of themselves. I am dedicated to helping women value their beautiful gift from the Lord - their bodies.
Read Megan's Story Here
"Therefore, since we are surrounded by such a great cloud of witnesses, let us throw off everything that hinders and the sin that so easily entangles. And let us run with perseverance the race marked out for us." - Hebrews 12:1
Victory Steps
6 Week Basic Program $99:
If you're wondering if this is right for you, listen to Testimonials...
Victory Steps
6 Week Lifestyle Program $249:
1. 6 Weeks of Spiritual & Physical Assignments
2. 6 Week Customized Workout Program
3. Video Demonstrations of Each Exercise
4. Monthly Teleconference Prayer
5. Email Access to Fitness Coach During 6 Weeks
1. 6 Weeks of Spiritual & Physical Lifestyle Assignments
2. 6 Week Customized Workout Program
3. Nutrition Guidance & Tracking
4. Video Demonstrations of Each Exercise
5. Monthly Teleconference Prayer
6. 6 Recipes of the Week
7. Email Access to Fitness Coach Throughout Program
8. 6 Weekly Accountability Phone Calls (15 Minutes) with Fitness Coach
Victory Steps Maintenance Program $35/month:
1. Weekly Faith-Food-Fitness Email that contains scripture study, healthy recipes, and home-based workouts
2. Access to private Victory Steps Community Group on Facebook
3. Monthly Teleconference Prayer
4. Access to Fitness Coach via Email